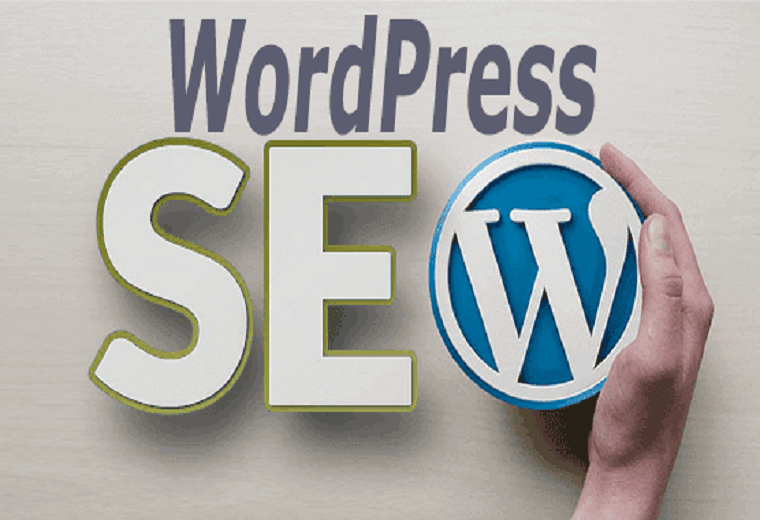 WordPress is a platform, from where most of the people of the present day publish their website with full business purpose and many people are now interested to work these platforms because the customization is easy.
I have seen many people who have been suffering from a lot of anxiety about SEO and publicity after creating a website from WordPress.
Importance of WordPress SEO
We all want that visitors should continue to come to our site and how much SEO is playing in our implementation of this demand, it is very important.
Many experts have heard that WordPress is a SEO Friendly Web Platform.
So you can get blogs or business site SEO here and you can successfully get millions of organic visitors.
So, without hassle, you can easily publish sites from WordPress, such as speeding up your blog or business, so this platform will be fully SEO Friendly and this will increase the speed at twice. In the blogging or business field where your main strength is the visitor's visit.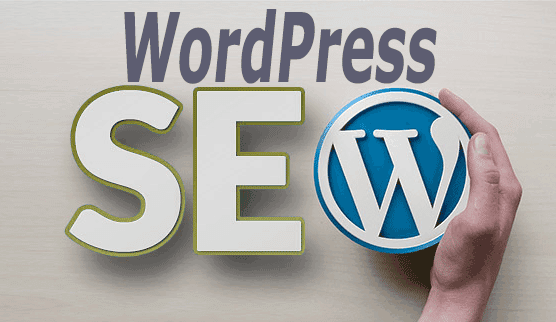 Basic SEO of WordPress
Even though SEO is a complete technical issue and a matter of practice, keep in mind that you are using WordPress's platform.
So, from this platform , you do not need to be very big tech genius, but if you notice some rules of the WordPress and some guidance, you can also be able to get your WordPress's website to be successful by the search engine.
Let's see what have to do for SEO in your WordPress website.
Visibility Checking
Word Press is a platform where your website is hidden in a search engine as default to build your website before you reach your site visitor, think of the convenience that you can arrange the site beautifully.
So you have to first check this fact that your site's visibility is turned on.
You can easily check this matter by logging into the admin area.
After logging in to admin area, go to the settings option and then go to the reading option. There is an option like the image below, which is in the dialog box, where there is a search engine from indexing this site "Check whether this box is checked, if checked Keep it unchecked, and keep your visibility on with Save changes.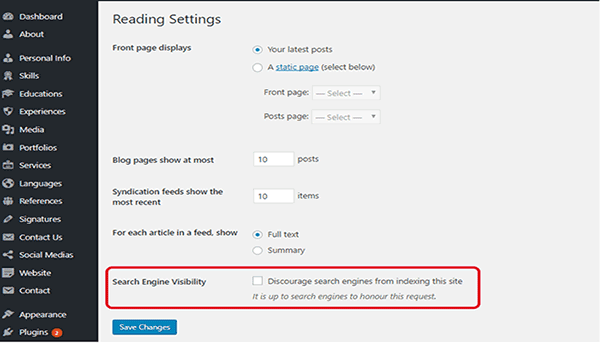 Keep SEO Friendly URL Structure
SEO Friendly URL means the URL that is written in the URL search box of each Web Browser, which is understood to be written about what the content of the website is.
Using this type of URL will help your site keep visitors and search engines clear at all places.
Let's look at some SEO Friendly example examples
https://codetones.com/how-to-build-own-website-easily-with-wordpress /
https://codetones.com/details/how-to-do-wordpress-website-seo-beginner -to-advance/
Look at the top URLs once and see clearly what kind of information is available between the pages of this website.
Now let's see, some URLs that SEO does not support
https://codetones.com/?p=10467
http://codetones.com/archives/123
Hopefully by seeing these links, you can understand where the difference exists.
So keep the URL in such a way that after seeing it, the reader or search engine is easily understandable about what kind of information exists in the pages.
You can change it through the Permalink options and you can create a clear SEO Friendly Link.
Note: If your site is appearing for more than 6 months, It is not wise to change the permalink.
If you use the number option in the post, you can change it, but if you use these dates in your site post, then keep using that.
Because the change of permalink can result in creating Brocken links on your site.
Which WWW and non-WWW will choose?
If your site is completely ready and you decide to publish it, you must select the URL without WWW or WWW.
If you have used two types of prefix, then the search engine will consider your site as two sites, so to show your site only and to keep the search engine's readable you should use any type of prefix.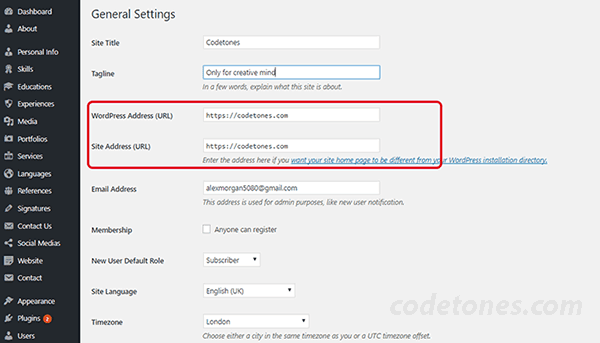 You can take it from the settings of your site to the general options of the WordPress admin panel and the site address field like this.
What would be a good name for a domain?
We understand the name of the domain, which is the name of the website.
Domain Selection is a very important thing for search engine optimization, your domain will not be able to name just like you do. To get good output, select the correct domain.
[codetones.catageory.seo.com] without using such a sub domain www.codetones.com/category/seo Use this type of same sub directory root domain.
Do not use hyphens in your domain, for example, world-review-uk.com
.biz,.name,.info This type of domain name may be an alternative top level domain but it is not good to use, because it is known as the most spam domain in search engines which can be a problem for your website.
Keep in mind that there is a key word in the domain of your website, and there is a problem, because of the keyword, your website can also go towards the negative ranking. So be careful about this.
Take a look at the management of your website, without this prefix, whether you are entering the site or whether it is showing in search engines, remember that many people can search Google in the name of your name and in general it will be done by search engines on all these types of names. When the visitor can enter your site, it can be automatically redirected but if your site can not be accessed without a prefix. Then understand that Google will be unable to publish the visibility of your site.
If you have a bit more careful about your domain, optimization of your website will be successful.
Headline and Permalink:
Remember that the beginning of the article on your website, which we call the headline must be within 55 characters, if it is more than 55 characters then it will never fully show up in the search engine results page.
As much as possible, the surveilles are some surprising and in the first view, try to give some such headlines to your site.
Do not give anything that does not match the content of your article or content, remember that if you try to fool the visitor, you will be fooled yourself, nothing can be found easily, and you cannot run websites by trick, so try to give something good.
My comments about Permalink will be on some keywords that are the most important of your article, and of course, three to four such keywords will not be used.
Keep the comment option running
Always keep on comments option on your website.
Keep in mind that keeping an eye on your visitor is the main thing and their opinion is to be able to apply the contents of your website.
So try most of the comments to build a community medium through comments. It is my personal opinion that you can see results as well as regular visitors see good bad comments or other suggestions that come from other visitors.
Depending on the amount of backlinks available in your website, it will help to get more visitor, and it also helps in the vast majority of your search engine optimization.
But yes, bad links or spam links can cause problems on your site. In this case, you can install the Akismet [WordPress] WordPress plug-in that will help to remove spam links between your sites.
With additional comments, your site might get a lot of speed and a little bit, so after a few days check the old comment or give the contract limit.
You always check this option. Removing spam comments, if you add no follow value to the comments section, then Google will keep boring and spam links could be replace your site form google search engine.
The things that the search engines do not like:
The search engine always tries to give us the right and completely natural organic results.
Therefore, search engines avoid many kinds of things that are annoying for search engines and for various reasons, the search engine website may stop penalty or direct show up, so your site will not show as a result.
Let's know about those issues and how to avoid:
1. Keyword Stuffing:
Even though Google has given importance to keyword research in your website's ranking, additional keywords may result in redundancy of your website and may result in your site being over optimized for optimization.
And always keep in mind that many Black Hat methods can bring you many visitors but remember, all of the unusual things are Google-controlled so your penalties are one hundred percent true.
2. Link purchase (backlink) or additional link exchange:
If you think that on your website you can do something in short time, but leave these thoughts, success will be the right way to work in the right street. Build good content to increase visitor.
The use of additional backlinks or the use of referral systems can cause problems with your website's security issue, and Google itself does not like to add additional links between web pages.
3. Annoying and Excessive Ads:
I have seen many people in a short period of time, with the help of different pay per-ad referrals, they have filled the ad with their site, but once you have seen the visitor may be disturbed by this, so that additional ad slows the website's speed, so do not forget to do this type of work.
4. Mobile Apps Setup Rules:
Many of the websites display advertisements of mobile app downloads or links, remember that if it is a much larger size, you will be blocked from Google, at the same time, so be careful, marketing is good but over marketing can ruin your market.
5. Duplicate/Copy content:
You will notice that all types of Google services like Creative Content are selected.
So if you copy any content from your website and apply it on your website, Google will cancel the optimization of your site, so do not apply copy content, try it with your own creatives, success will come.
6. Avoid hidden words or links:
Visitors cannot see your hidden link or the hidden word applied, but remember that Google can see all of your things so that you will not fail to repeat why you try to fraud.
So, implementing your website without successfully implementing the optimization can be done in a very short period of time just need your honesty and patience.
Search Engine Optimization [SEO] Friendly Plugin:
You all know that the use of different plugins can be used for all work in WordPress. The case of managing a website which is a very convenient one.
Just like everything else in WordPress, search engine optimization has many different types of plugins that can be used by your optimization, which is very easy to use.
Today, we will discuss some plug-ins used in the search engine optimization, which you can get completely free and use the facility to optimize your Word Press site successfully.
Yoast and All in One SEO Plugins:
Among the two plug-ins in WordPress Yoast and All In One SEO are the best in my opinion, so you can also apply the idea of ​​their use and actually implement them.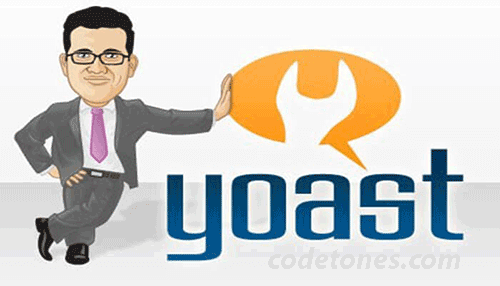 If you have a basic understanding of the primary level of optimization, then you can try the yoast for yourself. How to use the Yoast Plugin, we will publish a complete video and screenshot for you.
XML sitemap:
XML Sitemap is created in a way that calculates each page on your website.
So setting an XML sitemap for optimization in search engines is a more important task. Although it will not apply any speed to your site's ranking, it will be possible to search every page of your website in search engines as easily as possible.
If you have used Yoast Plugin in yoast seo plugin then you can easily get the XML Sitemap on your website from there.
https://www.xml-sitemaps.com/
We will give you full details of how Sitemap will work with your URL to get your Sitemap.
Adding your site to Google Search Console:
Many people know about Google Search Console and many are wondering whether or not they know how to work through this search console.
Google Search Console or Webmaster Tools is a place where Google has given many tools for website operators-
- Which is how your website content looks
-What kind of visitors are you getting in the search engine?
You can get all types of information and take appropriate measures.
In addition to these
-All kinds of information on your website, such as a problem,
Whether every content and pages on your website are properly viewable
Whether you are showing or not, many problems with security and you can get the report from here.
For more details on how to register your site in the search console, please keep an eye on all the episodes related to this search engine optimization.
As already mentioned, search engine optimization is such an issue that is a combination of many tasks that will not give you results overnight, many actions are accurate and you only need to get the result right at the right time. Only need to patient and keep working.
And we want you to know all the things in details. So try to go through all the details in front of you in different ways, let us know all your opinions about this.
Optimize your blog post before publishing (Content SEO):
The main strength of your site is your post or content. As mentioned earlier, the content will be as attractive and as good as the popularity of your site.
Before publishing each content or post, please see if the grammar is okay, if you think it is appropriate, then change it.
Take a look at what kind of keywords they are using. Take a good idea about linking and using photos.
Do not publish any content that your visitors take away from your site after publication. Always try to give something right and of course.
And remember what you said earlier, write your own thoughts, do not forget to copy anything because to the way fo upstairs stairs are many, but now you can reach them slowly, and if you run too much then there is a possibility of going back in the slipper.
Applying the link inside the post Or Internal Links:
Internal link is a facility that can be invisibly doubled in your site's Content Count level.
- Linking between the client can attract a visitor's mind and may increase the time of visit to your site.
The use of some such links - this is a great help for your page view.
In addition to the information of each content, the use of the photo will increase the quality of your content, multiplication and
-Continue only a visual look of your content can change the visitor's visit to your site.
Moreover, the use of photographs in tutorials or other information based articles will help the visitor to keep happy because as well as seeing the image of the visitor along with the visitor's information, there will be a lot of practical knowledge.
All kinds of External Link make as no follow:
External link for your site is the benefit of having more visitors.
External links help determine which pages of your site are most important in search engines.
When you use links from other sites in your site, there is a score on your given link between the search engines, which is called link juice.
So, if you want to rank better in ranking then you must achieve good quality link juice scores. So to get the best quality links, add No Follow attribute to all kinds of external links.
Another important rule of article post
Many people may display complete articles in their website, but others have a bit of essence and they have to look at the whole article through view options. Yes I will discuss which of these things are search engine friendly.
As you can complete the article, but with such a large article like your homepage, it will occupy an extra space in the middle of your webpages, just as it will reduce the beauty of your site and reduce the site's page loading time and more and therefore the optimization of your site is interrupted.
Optimize images used in the post in WordPress:
Visitors get more attraction while a post writing have some related Post article photos used in the post.
But it is also a hassle that allows you to take a lot of time to load your pages as a result of using the picture so that you can verify the size and quality of images and then use them.
You can also optimize the pictures using the Alt tag.
This will help you to read the pictures and read the existing material while reading your pictures in the search engines, and it will be easy for your visitors to understand the contents of the post.
In WordPress you can see the place of tags and titles while uploading photos, and you can place your tags through it. You can take some ideas even if you see the image below.
And if your site is about photography or you need to upload a lot of photos then you can use the gallery plugin in WordPress.
Improving security system:
Every week Google has blacklisted nearly 20,000 websites because it could be declared because of security issues or malware problems, which could reduce your website's ranking, or even cancel your site from the search engine.
There is also the problem of hacking. You can initially use Sukuri [SUCURI] plugin to improve your website's security system.
Sukuri will help you prevent 450,000 unwanted word press attacks in 3 months.
If you manage your online store with WordPress, then you can use this method to increase the reliability of your site to your visitor.
SSL HTTP is a security socket layer that will look like a pad lock sign in your address bar, and it will operate a separate security system between your sites. Nowadays all hosting companies will provide you with this type of security HTML layer for your site.
For example, Blue Host, Dream Host, Host Gator, these are paid by the paid media, again you can get this facility from many sites.
In addition to these, when you are looking for a practical search engine optimization every day and practice yourself, you will understand the use of many things on your own.
Connect with us in social Media for more and comment your opinion.
Subscribe Your Youtube Channel: Codetones