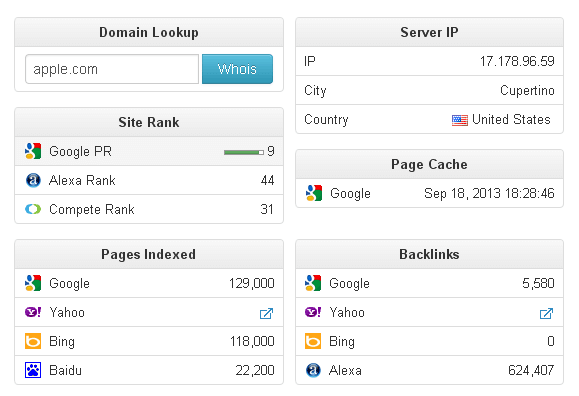 Once your site is up and running, search engine analytics are an important benchmark of your website's performance. There are a number of Chrome tools that provide key metrics like page traffic, backlinks, page rank, and domain authority, among others. Others apps check your website for missing metadata and broken links, which aid in optimizing your web pages for search.

# SEO PageRank
SEO PageRank displayes PageRank, Alexa Rank, Geo IP location, Google+ shares, Twitter shares, Facebook and other information about a page. PageRank is Google's system for ranking web pages. SEO PageRank help to analyzes a web page current status.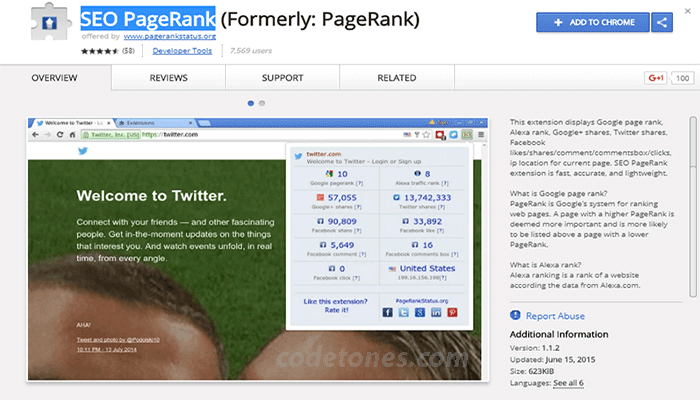 Users: 7,569 users
Rating: 4.5
# SEOquake
SEOquake is a free plugin that provides you with key SEO metrics, along with other useful tools such as SEO Audit and many others.
SEOquake consists of several tools you can use depending on which specific SEO endeavors you're pursuing. The SEO bar is an additional toolbar located at the top of the browser window, and it presents core metrics – a number of which can be customized.
Estimate keyword difficulty instantly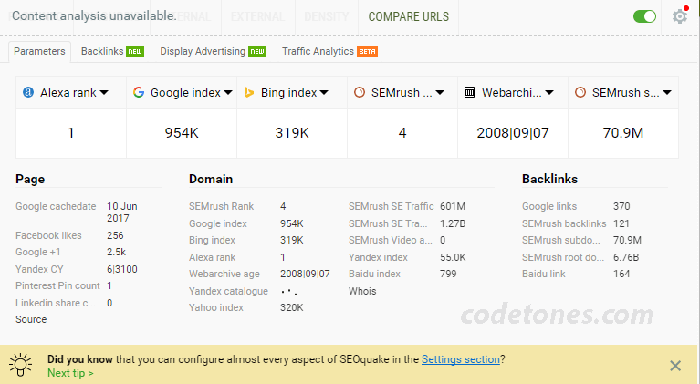 ★ Set parameters for a search query
★ Run a complete SEO audit of a webpage, including a check for mobile compatibility
★ Check your social statistics for Facebook and Google+
★ Use a wide range of default parameters or create a custom set
★ Get a full report for internal/external links
★ Determine a keyword's density and
Users: 390,514 users
Rating: 4.5
# SEO Site Tools
Has a lot of functionality Website ranging according to search engine. Information of social media shares and HTML CSS validation. Shows Google PageRank of the current page. More features including IP Geolocation, Domain Whois, SEO Stats, Pages Indexed, Backlinks, Alexa Rank, Social Analysis and many other SEO Tools.
Google PageRank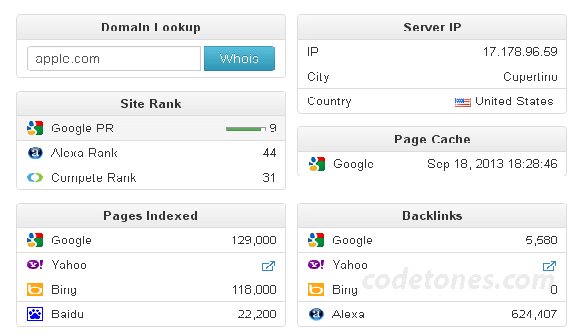 ★ Alexa Rank
★ Compete Rank
★ Domain Whois Lookup
★ Server Ip Geolocation
★ Page Cache in Google
★ Indexed Pages in Google, Yahoo, Bing, Baidu
★ Backlinks in Google, Yahoo, Bing, Alexa
★ Traffic Graph
★ DMOZ Listing
★ DNS Information
★ Robots.txt and Sitemap.xml detect
Users: 8,152 users
Rating: 4
# YSlow
YSlow analyzes web pages and suggest how to improve page performance based on a set of rules. YSlow is availale for Firefox and Opera Browser. YSlow, tests the speed of your website, analyzes different factors and produces a report.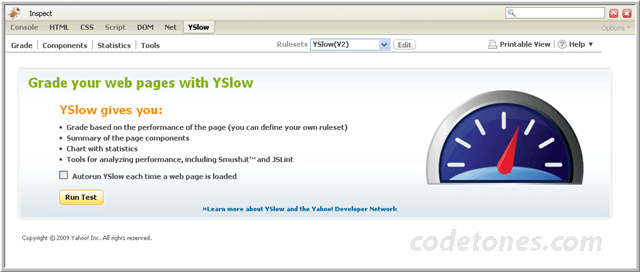 Users: 63,246 users
Rating: 3
# MozBar
Undoubtedly one of the best SEO Extension. Gives page and domain authority according to the Moz index.
MozBar gives you instant metrics while viewing any page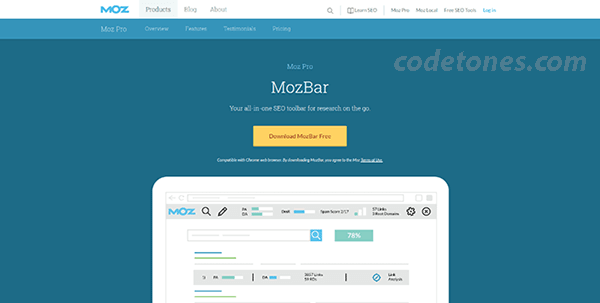 ★ Create custom searches by engine, country, region, or city.
★ Quickly assess the Page Authority and Domain Authority of any site or page.
★ Access and compare link metrics across pages while viewing any SERP.
★ Find and highlight keywords on a page and differentiate links by type: Followed, No-Followed, External, or Internal.
★ Expose page elements, general attributes, markup, and HTTP status.
Users: 8,152 users
Rating: 4
# SEO & Website Analysis
SEO & Website Analysis Analyzes a wealth of SEO analytics. SEO & Website Analysis by WooRank provides a deep SEO analysis covering SEO, Mobile, Local and Usability. It is a powerful tool for internet marketing professionals, designers, website usability experts, web and mobile developers and other digital professionals.
The following aspects are currently covered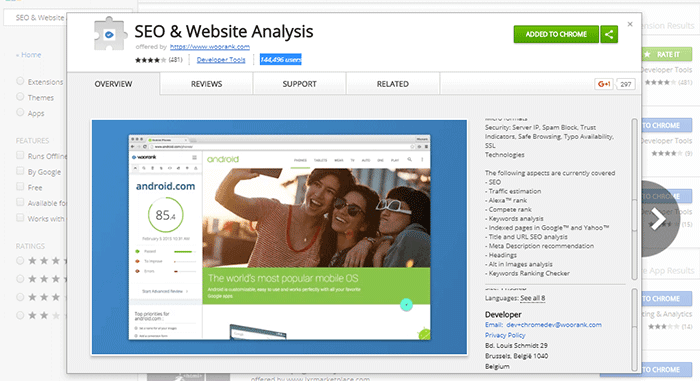 ★ SEO
★ Traffic estimation
★ Alexa™ rank
★ Compete rank
★ Keywords analysis
★ SERP
★ Text/HTML ratio
★ Robots.txt
★ XML Sitemap
★ Language
★ Doctype
★ Indexed pages in Google™ and Yahoo™
★ Title and URL SEO analysis
★ Meta Description recommendation
★ Headings
★ Alt in Images analysis
★ Keywords Ranking Checker
★ Meta description optimization for SEO
★ Meta keywords optimization for SEO
★ Titles optimization for SEO
★ Google Analytics™ installed
★ Micro formats
★ Backlinks analysis
★ Twitter account
★ Number of tweets
★ Rss Feed
★ Readability level
★ Load time (website speed optimization)
★ Competitor analysis
★ Usability
★ Favicon
★ IP number and Country geo localization
★ Speed check and server speed tips
★ Mobile rendering
★ Mobile optimization
Users: 144,496 users
Rating: 4
# Check My Links
Check My Links is an extension developed primarily for web designers, developers and content editors. Check My Links is a link checker that crawls through your webpage and looks for broken links.Check My Links will assess the current page for broken backlinks, and will highlight broken ones in red and functional ones in green.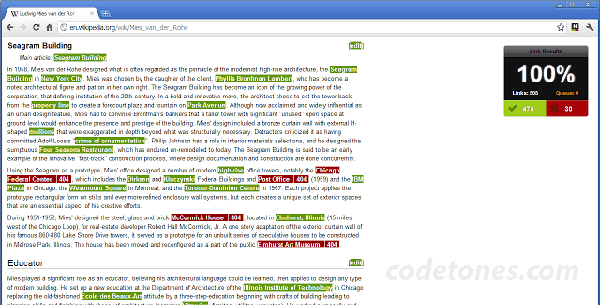 Users: 148,717 users
Rating: 4
# META SEO inspector
Useful to inspect the meta data found inside web pages, usually not visible while browsing.
META SEO inspector Inspection of meta tags within a site. It is very useful for helping to improve SEO factors.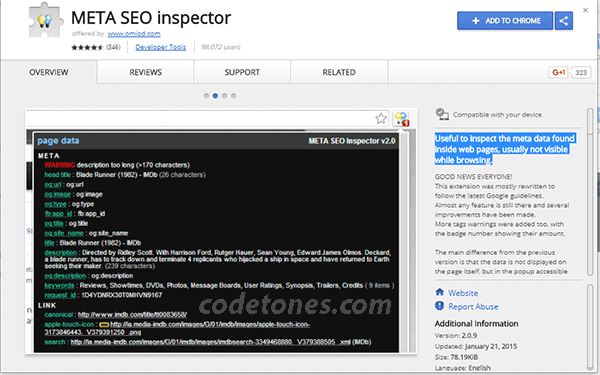 Users: 98,072 users
Rating: 4.5